Unveil the Future of SAP Data Archiving with ArchiveHub's Seamless Integration and Extensive Features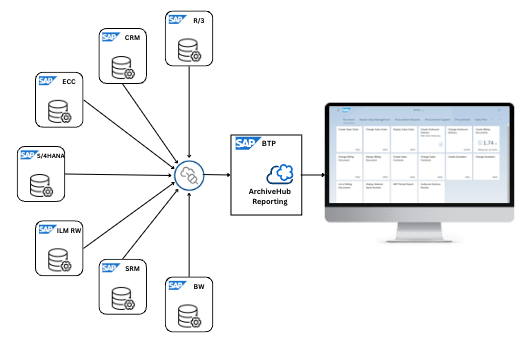 Introduction:
As businesses continue to expand and evolve, managing SAP data volume becomes a crucial aspect of IT infrastructure. To address this growing need, we introduce the cutting-edge SAP Archived Data Fiori Reporting solution powered by ArchiveHub. This game-changing product is designed to enhance the user experience, improve data volume management, and satisfy the needs of business users, archiving consultants, and Basis teams.
Immerse yourself in the innovative world of SAP data archiving with ArchiveHub's vast range of features and benefits.
Key Features:
Native Fiori Apps Integration: Elevate your user experience with seamless Fiori Apps integration, providing a superior and intuitive user interface.
Transactional Reports: Enjoy the familiarity of transactional reports resembling standard SAP reports for an effortless transition.
Unrivaled Compatibility: Our solution is compatible with all Archiving Objects (1851+) and custom archiving objects (see full list on the website), ensuring extensive coverage.
Reporting Across 24 Application Areas: Catering to diverse industries, including FICO, MM, SD, PP, PM, QM, Banking, and more (see the full list on the website).
Secure and Compliant: Preserve authorization rules and enjoy S/4HANA UI Data Masking for added security.
Advanced Analytics: Unlock insights and perform advanced analytics on archived data for informed decision-making.
Access Attachments and Documents: Easily access attachments and documents linked to archived data for a holistic view.
Lightning-fast Indexing: Experience unparalleled speed with SAP IQ, SAP DataLake, or native indexing for non-HANA DBs.
Benefits:
Delightful User Experience: Business users will enjoy a user-friendly, modern, and responsive interface.
Comprehensive Archiving Solution: ArchiveHub offers a complete and robust solution to address the needs of archiving consultants.
Efficient Data Volume Management: Infrastructure and Basis teams can effectively manage data volume growth, ensuring a smooth and optimized system.
Reduced Resident Times: Decrease the duration of data residency in the database, enhancing overall performance.
Happy SAP IT Managers and CIOs: ArchiveHub's holistic solution fosters satisfaction among IT managers and CIOs, paving the way for a successful digital transformation.
Application Areas for Reporting:
With an extensive range of 24 application areas, SAP Archived Data Fiori Reporting caters to various industries and business functions, including:
Asset Accounting
SAP NetWeaver
Controlling
Financial Accounting
General Ledger
Human Resources
Industry Solutions
Logistics Controlling
Materials Management
Office & Communication
Plant Maintenance
Production Planning, Project System
Quality Management
Sales and Distribution
Enterprise Controlling
Treasury
General Cross-application
CRM
Business Information Warehouse (BW)
EBP
Warehouse Management
Transportation Management
Non-application-dependent from Financial Accounting.
Conclusion:
Embrace the future of SAP data archiving with the SAP Archived Data Fiori Reporting solution by ArchiveHub. Experience a seamless and comprehensive approach that caters to the diverse needs of your organization while ensuring a delightful user experience, robust compatibility, and unparalleled performance. Don't let data volume management hold you back; let ArchiveHub empower your digital transformation journey.